Discord username:
Blutarch Mann#1457
Commonly used names:
goof
Banning admin:
CoconutMage
Ban reason:
@ing the discord moderation staff because a user told me to kill myself. Official reason listed is "repeated drama stirring", which is a lie.
Time ban was placed:
11:18 PM PST, 4/2/2020
Your side of the story:
I was arguing with a user about Families and game design in ss13. I told them their game design opinion was fucking garbage, because it was. They then proceeded to tell me to "kyhs" and called me a homophobic slur. Now, when I was banned from tgstation's discord ages ago, I was banned for telling users to kill themselves. I was told under no circumstances is "kys" ever allowed on the discord. This policy was never updated as far as I was made aware, as it was a perma offence.
Why you think you should be unbanned:
This ban is illegitimate. As I said in my DMs to CoconutMage afterwards, it is not "drama stirring" to file reports with administration over rule breaking behavior. We have fucking ahelp in the video game for this exact situation, but we don't have an equivalent in the game's discord for situations in which a moderator might miss rule breaking behavior occurring, so I pinged Discord Moderators for this. I was then banned for "drama stirring" because I filed a report on what I was led to believe was a never-ever allowed thing almost on par with doxxing in the tgstation discord. Like, that's the severity that the admins who banned me from the tgstation discord originally made out telling people to kill themselves was.
I have been harassed many, many times on the tgstation discord. Many, many fucking times. Always in violation of rule 1. Except that administration told me its not actually bannable, then proceeded to tell me that admins refusing to enforce rule 1 on blatant harassment isn't admin complaint worthy.

I filed reports on these, and was told not to ping administration with the Discord Moderator role for harassment reports before as long as it doesn't cross the line. Which I respected.
However,
I was under the impression this report was okay because telling people to kill themselves was, as far as I was literally told by the administration when I was banned, The Line. Like, that was where the line was crossed, where it turned from "haha goof is mad about getting banned from github" to "alright we're banning goof from the discord now that was too far"
Telling people to kill themselves is not okay. This was the central point of my unban appeal from the discord originally, because as I have said, I was banned for telling people to kill themselves.
I was explicitly told by the administration that had banned me from the discord originally that "kys" is never allowed. My original discord ban was for telling people to kill themselves, I'd fucking know this.
So, I did the only thing that we have available to report rulebreaking behavior on the discord because tgstation administrators had made it very clear that reporting users to discord support for abusive behavior isn't allowed either, and I pinged discord moderation with a screenshot of and discord channel link to the offending content, being the user telling me to "kyhs faggot".
The headmin CoconutMage proceeded to kramer in with this nuclear take, that reporting things that headmins told me previously weren't okay ever at all whatsoever is "drama stirring"

1. it was not a "scuffle", the user and I were arguing about game design and doing the usual "yeah your opinion is shit lmao" and they chose to escalate it to both A. target my sexuality as a gay man, and B. tell me to commit suicide, the very thing that I was told is NOT OKAY AT ALL WHATSOEVER
2. once again, I was explicitly told by the administration before that TELLING PEOPLE TO KILL THEMSELVES IN THE /TG/STATION DISCORD IS NOT OKAY. EVER. UNDER ANY CIRCUMSTANCE. AT ALL. WHATSOEVER.
i attempt to explain this to the admin, they don't care at all and proceed to ignore it completely, going off about how it's "case by case".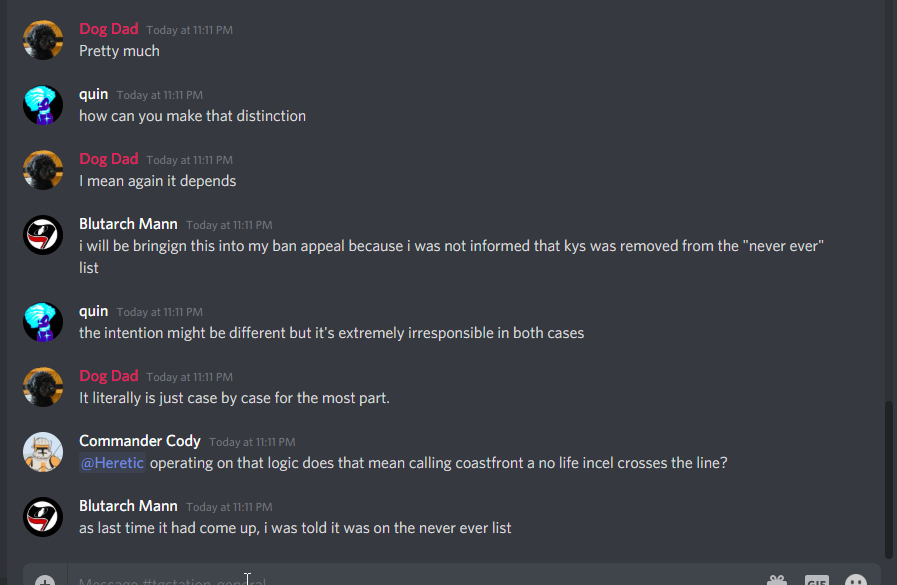 I was not told that "kys" is a case-by-case thing. The last thing I was told by the tgstation administration is that kys is never okay.
Perhaps this was a lie made up to excuse permabanning me. Perhaps not. Who fucking knows. But above all else?
It's not fucking drama stirring to report rulebreaking behavior, especially when said rulebreaking behavior is behavior that the reporter was explicitly told is never okay at all under any circumstances, otherwise we need to ban players from the game for getting their ahelps wrong. Because I got permabanned from the discord here for effectively getting an ahelp wrong because nobody told me the unwritten goddamn policy on "kys" changed.
I'm expecting this appeal to get tossed with some garbage about how I'm "missing the point" or whatever but there's no point to miss here. I tried to report a user to the discord moderation for violating a very basic rule, with the only tool I have available aside from DMing random people with Discord Moderator(which is Admin Shopping and isn't allowed as per community rules), and got tossed out for bullshit drama stirring arguments. I'm incredibly disappointed in the tgstation community. I've made many attempts to reach out and keep in touch with players and administrators to ensure a productive working relationship, and this is explicit double standards being used against me.
But goof, why didn't you know the policy changed?
I was never informed, not even in my ban appeal about telling people to kill themselves, that telling people to kill themselves was now "case by case okay or not okay". I was not informed of this policy change.
Quite frankly, it feels more like I was banned because it's easier to ban the openly gay man who has spoken multiple times about being gay who's not okay with being called homophobic slurs, than to ban the people using homophobic slurs against me. This is disgusting behavior from the tgstation administration at large, and I had high hopes that I wouldn't be unfairly targeted.
But it seems that isn't the case, since people are withholding critical information like "telling people to kill themselves is okay now sometimes", even in ban appeals where telling someone to kill themselves was a critical part of it.
But goof, you were told not to ping discord moderation with harassment reports anymore!
I was under the impression that, because nobody had fucking told me the policy changed, that telling people to kill themselves was still an extremely serious offence that was still bannable.