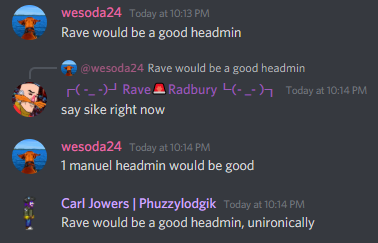 Hi there! I'm RaveRadbury
I'm an admin, I mostly play and admin on the MRP server. I started playing in 2019 and I was adminned around the start of 2020. /tg/station has been a great place to play and I have enjoyed my time here. Especially during Covid, this community has been important to having any sense of normalcy or regular socializing. I am very grateful to all of you for playing here and taking the time to post in the forums and discord.
I am running for headmin because I wish to give back further to the community that has done so much for me and I have time to dedicate to the position.
If elected headmin I plan to focus on improving and growing the community
SS13 has been around for nearing 20 years now, and while we like to joke about the Curse, there are two projects that have sought to free it from BYOND that are now on the Steam Store. I believe that these projects pose an existential threat to our community that we must take seriously. In preparation for a future where at least one of these projects becomes successful, I feel that it is important that we take steps to strengthen and grow our community, as ultimately the community members and active culture are a finite resource that cannot be copied.
A comfortable environment with reduced toxicity
Community members put so much time contributing to this game and playing it to have to add a bunch of caveats and warnings to the project they have dedicated themselves to before showing it to their IRL friends. Have you ever wanted to tell someone about this game, but held back because of the kinds of behaviors and things that are said around here? I think that's a shame, and I would like to change that.
I will work for better enforcement of Rule 11 and Discord rule 12. I will also see to the appointment of at least one discord moderator exclusively for the oversight of #politics-containment.
Notes shouldn't be a punishment
There has been a lot of discussion lately about the role of notes and how they lead up to bans. During the course of my term I would like to evaluate and investigate this further. As an immediate actionable first step, I would address the current practice of "ban this person if they do x again" in notes, disallowing it from occurring further and encouraging community members with such phrases in their notes to appeal to have the note edited to remove the problematic section. This practice literally makes notes a punishment, and must be dealt with.
While adminning on MRP I was advised by headmins during its early days to take an approach of correction and discussion over noting. This is something that I embraced, and when I was made admintrainer I sought to pass it on to those I trained for the MRP server. Having originally adminned on Bagil and Sybil, I found that this approach produced a lot of fruitful conversations with players that resulted in growth and a lack of future problems on their part. As such I would like to consider a lighter touch on the LRP servers as well, we're all here to enjoy the game and mistakes happen.
Any specific plans for LRP/MRP?
At this time no, I have no sweeping changes I'd like to see happen to either ruleset. I think our headmins have done a great job with MRP policy, and I think that Mothblock's work on Dynamic 2021 has been a boon to all of our servers.
I would prefer instead to source feedback from the community in regards to the changes that they would like to see. If there is something that you would like to see changed/added, please make a debate thread about it, or feel free to DM me on discord. I will also be spending time in the VC channels during the course of the elections if you'd like to speak with me there.
Common debate thread pre-emptive answers
Drones?
Yes, I've been a supporter of JJRCop's fix to drones from the beginning.
ERP?
No, it squicks people out and it produced toxic cliques
I look forward to hearing feedback from everyone and discussing the future of our community.
Thank you for playing here, participating in the community, and contributing to the project.