When and where this incident occured (Game Server, forums, Discord): game server(sybil) and discord
Byond account and character name OR Discord name: iamgoofball
Admin: Shaps
ROUND ID HERE IF APPLICABLE:
https://scrubby.melonmesa.com/round/173013
Detailed summary:
Relevant tickets:
https://atlantaned.space/banbus/ticket/67015635042b9550
https://atlantaned.space/banbus/ticket/10e54a63779da161
So, two days ago, I asked in ahelp on sybil about running a families 4.0 test on LRP. I've been getting asked by players for months now from Sybil, Terry, Basil, etc. about if Families is returning to LRP. I've told them no, because I don't control that, and because I don't know if Families 4.0 after its latest update is good or not for LRP. However, for 10 years, I've advocated for "test it and see if it works". So, I figured I'd test it and see if it works.
When I ahelped to ask about it, I got told this. Sure, okay, that's reasonable. Folks not up for a test today, so I'll schedule something in advance with admins who are willing to be there and such.
So, I went to the #help channel and reached out to event staff and sybil-mins to ask about if they would run it.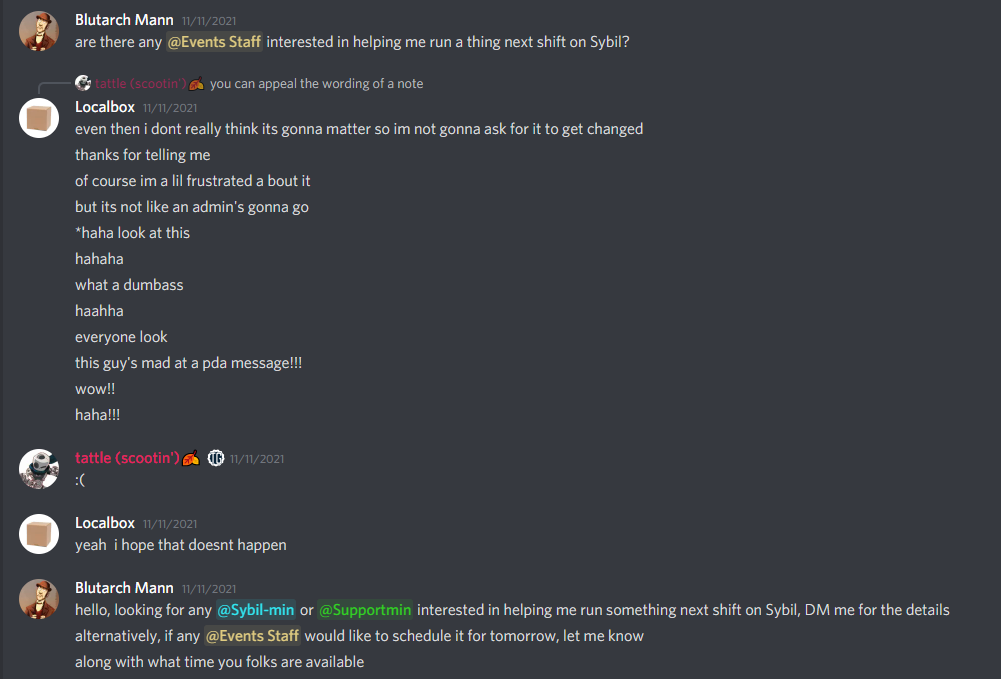 I had two takers, Fikou and Sacko.
Fikou and I tried to schedule it, but we got pranked by whenisgood.com not actually respecting timezones like it said it would, and so we deferred to sacko to avoid scheduling conflicts due to the large timezone gap between myself and fikou.
Fast forward two days later, and sacko and I are talking about how to do the setup for the test for the next round, when they drop on me that shaps is blocking the test.
I ahelp about this, because what the fuck, i scheduled this in advance, waited two whole days, and then got told "actually no" anyways.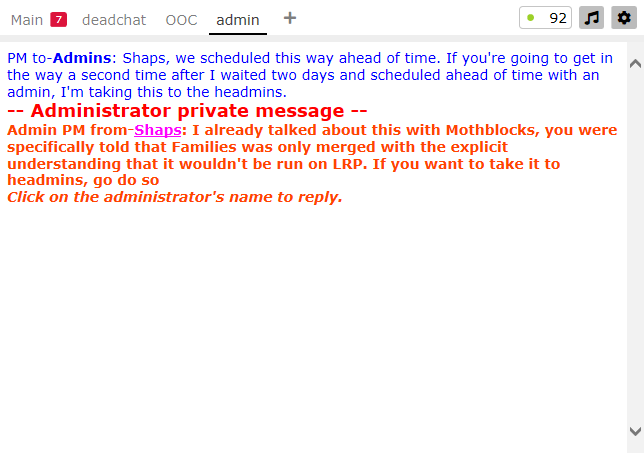 This time, for a completely different reason than what they gave me before? They're hiding behind mothblocks saying no as a reason to deny it.
At this point, I'm furious. I made the mistake of believing them when they told me "actually we're just tired rn sorry :(" the first time, and apparently wasted my time following the correct processes and scheduling things in advance. And I was rewarded for that by finding out they lied via omission.
I take to the help channel to ask for headmins because what the fuck, come on Shaps, what the hell. I bring up that they're hiding behind mothblocks on this, and they reply that it's policy.

At this point, I'm pissed, because they've accidentally admitted to two things here.
1. they intended to deny the families run the original time, and (ironically) went around to other staffers to get an excuse for when I came back after debunking their first excuse.
2. after two days of knowing that they would deny me running the families event, and the fact that in the original ahelp I told them I would reach out to admins to schedule it, they did not feel the need to inform me of this decision
Then, they drop this insane accusation on me, that was immediately debunked: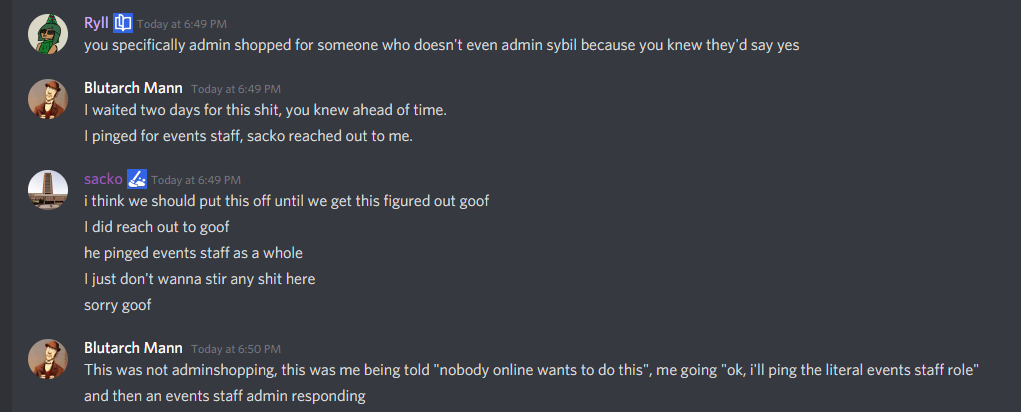 There's a lot to unpack here.
Firstly, it is not admin shopping to, upon being told by an admin "sorry the people logged in right now are tired and dont want to do this tonight, we just wanna relax", go to the dedicated ask for admins channel and ask if there are any admins interested in scheduling the test for a later date.
Admin shopping is when you are given a ruling and then try to circumvent that ruling by asking another equal ranked admin to bypass it for you. I wasn't given a ruling, I was given "sorry we're tired tonight and dont wanna do this rn". That's not a ruling in any way, shape, or form. Shaps has been on the team long enough to know damn well what a ruling is and isn't, and this wasn't a ruling.
Secondly, who the
fuck
cares if someone is/isn't a "sybil" admin. Admins are admins. They admin
all
the servers. Sacko's rank doesn't say Sybil Game Admin, it says Game Admin. It is incredibly fucking insulting to the rest of your administration team to imply they're not allowed to admin on a server that you're supposed to be sharing with the rest of the 100+ admins.
Were you going to hop onto Terry and say no if we did this at Terry instead of Sybil? Why is there a difference between servers administratively, Shaps? Is that what you're admitting here?
When this gets debunked, they switch to their final, third excuse:

1. Families is a conversion mode. It works better when there are more players available. I find it incredibly hard to believe Shaps doesn't know this as they're also a coder.
2. Accusing me incorrectly of "hijacking" a round is insane, it's not hijacking a round to test a gamemode. What the hell kind of logic is this?
3. It's not my "personal project", it's the fucking codebase's project. Families is a gamemode on the codebase. As a game designer and coder working on this codebase, it's literally my job to conduct and oversee tests like this if I want to be a responsible developer.
Every part of this statement Shaps made is just absurd and inconsistent with reality.
This entire conversation was like talking to a gish galloping player in ahelps. Every time an incorrect point was debunked, they'd just ignore it and jump right to the next three incorrect points.
Players don't get to pull this crap, so why do admins?
Shaps was directly informed by me two days prior that I would be attempting to schedule a test, via ahelps. They had a whole 48 hours to go "hey you cant run families at all, i will block it".
They did not. They waited until the last minute to do so.
This was incredibly fucked up behavior, and completely ruined my night and my testing plans for the evening because I tried to follow the correct procedure and do the right thing and get my gamemode tested on LRP with an admin who volunteered to oversee the test.
If Shaps didn't want to oversee a Families test, they could have hit the big red X and let the admin who volunteered to oversee it do so. However, they refused, for reasons unknown, and instead chose to shit up my night with their crap.
This was, frankly, unacceptable on all levels. I tried to do my job as a responsible game mode designer and got told I'm in the wrong for doing so. What the hell kind of system is this?